VARIOUS ARTISTS - SPIKE: A San Pedro Compilation → lp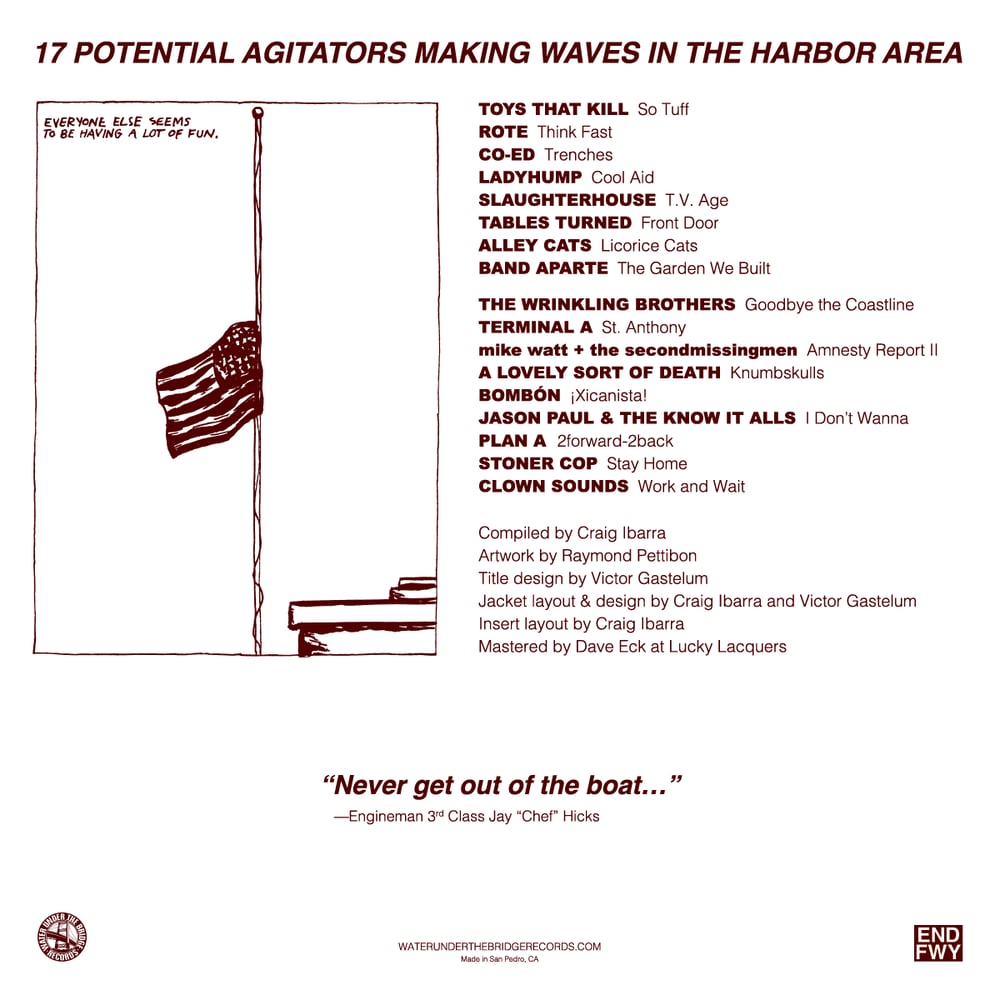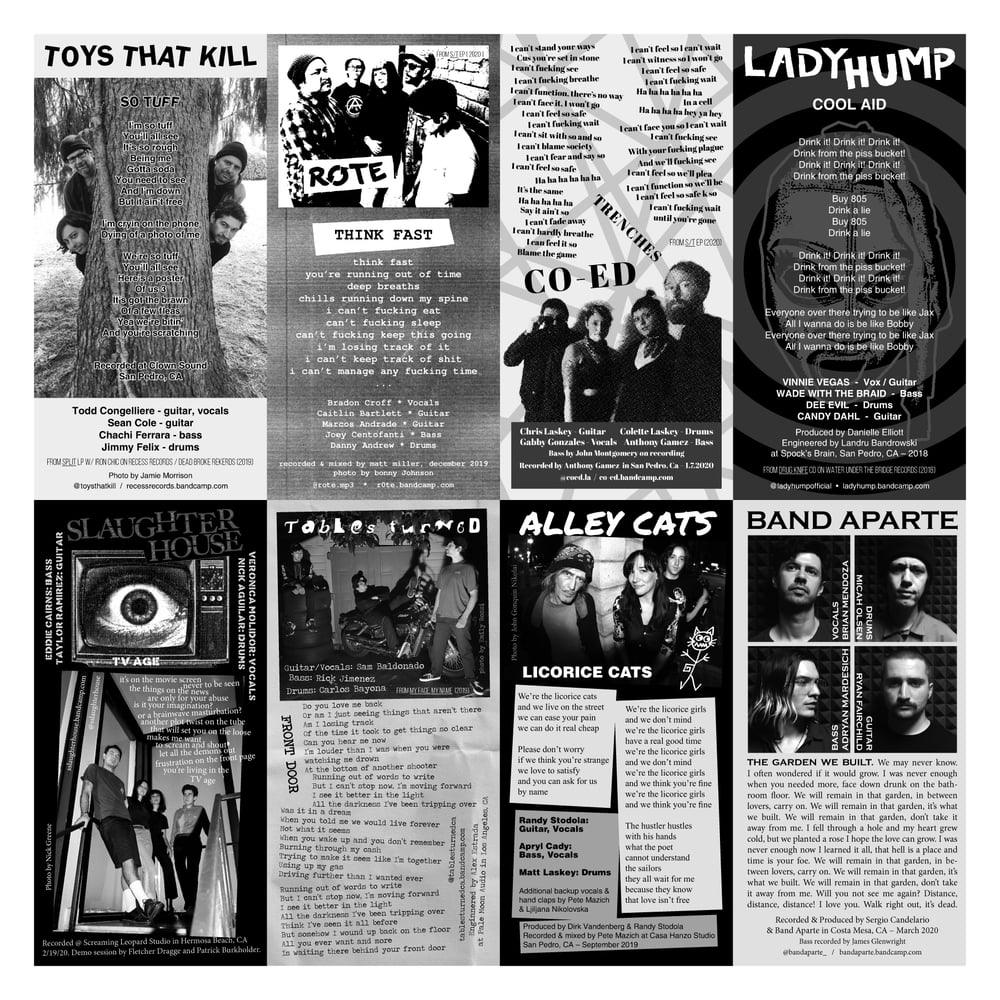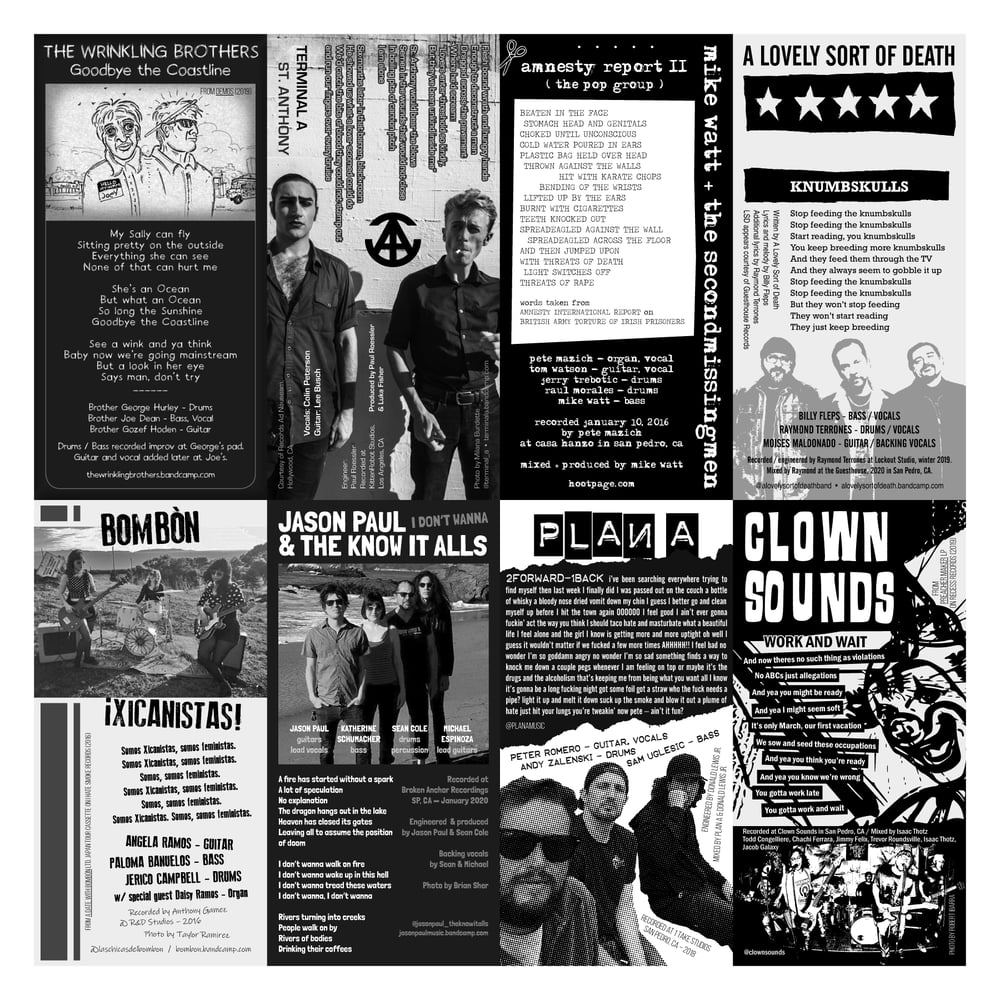 This record is "Sold Out," but we are offering up our only Maroon Colored Vinyl (first pressing) archive copy right here, so have at it ... Offer available to U.S. residents only.
17 POTENTIAL AGITATORS
MAKING WAVES IN THE HARBOR AREA
17 bands / 17 songs
01. TOYS THAT KILL So Tuff
02. ROTE Think Fast
03. CO-ED Trenches
04. LADYHUMP Cool Aid
05. SLAUGHTERHOUSE T.V. Age
06. TABLES TURNED Front Door
07. ALLEY CATS Licorice Cats
08. BAND APARTE The Garden We Built
09. THE WRINKLING BROTHERS
Goodbye the Coastline
10. TERMINAL A St. Anthony
11. mike watt + the secondmissingmen Amnesty Report II (The Pop Group)
12. A LOVELY SORT OF DEATH Knumbskulls
13. BOMBÓN ¡Xicanista!
14. JASON PAUL & THE KNOW IT ALLS
I Don't Wanna
15. PLAN A 2forward-1back
16. STONER COP Stay Home
17. CLOWN SOUNDS Work and Wait
_________________________
Cover art by Raymond Pettibon
_________________________
Compiled by Craig Ibarra
Title design by Victor Gastelum
Jacket layout & design by Craig Ibarra and Victor Gastelum
Insert layout by Craig Ibarra
Mastered by Dave Eck at Lucky Lacquers
_________________________
This project came to fruition about a month into the COVID-19 lockdown. The jacket concept and title were inspired by various coronavirus concerns and curated by Craig Ibarra using three existing illustrations and prose from contemporary artist, Raymond Pettibon. Ibarra also conspired with artist, Victor Gastelum to help shape the overall package. With the enduring pause in band activities and live performances, this compilation was generated to help catapult these bands back into the limelight and possibly help give them some momentum when the green light to "rock" is given. The 17 tracks compiled herein are solid — giving attention to numerous active bands from San Pedro, CA and their diverse styles.
__________
Regardless of the bombardment of coronavirus SPIKE announcements or the trumped-up pseudointellectual flim-flam of the times — let's take a virtual tour of the San Pedro music scene in the year of our lord (2020), shall we?
We'll start by strolling down Pacific Avenue where everyone appears to be so tuff. You often have to think fast and avoid the trenches. On your left, you'll see bands like: Toys That Kill, Rote and Co-Ed — our virtual welcoming party.
Let's hang a left and head towards Harbor Boulevard, but please don't drink the cool aid or fall into the ruse of the T.V. age — because you probably don't want some of these folks down here knocking at your front door anytime soon. Let Ladyhump, Slaughterhouse and Tables Turned help keep you attentive.

As we approach Beacon Street, please don't pet the licorice cats, they're a feral group. Do enjoy the garden we built and wave goodbye to the coastline as we hitch up 22nd Street with the Alley Cats, Band Aparte and the Wrinking Brothers.

If you feel lost, say a prayer to St. Anthony. Heck, if you aren't from around here we can add you to page two of the amnesty report to keep you free and safe from some of the local numbskulls treading to and from the neighborhood speakeasies. If you're lucky, our friends Terminal A, mike watt + the secondmissingmen and A Lovely Sort of Death will help you bypass the unsavory cretins lost among the cracks in the sidewalk.
As we swing a right along Shepard Street, throw a wave to one of our local Xicanistas, and don't tell me "I Don't Wanna," because activism is good. Just because it's a long road and sometimes it takes you 2 forward and 1 back, it's still progress. Just ask our friends Bombón, Jason Paul and the Know it Alls and Plan A.
Looks like we're on the last leg of our tour as we bounce our way back up Gaffey Street, home to those that work and wait and some that prefer or have to stay home in some cases. At least we got tunes from all of the aforementioned bands, including Clown Sounds and Stoner Cop to help distract us in these strange and unruly times.
This concludes our cursory virtual tour of active Pedro bands. Stay vigilant, stay safe and sound OFF!!!!
_________________________
PRODUCT HIGHLIGHTS
• Includes Digital Download
• Includes 11 x 11" Two-Sided Insert w/ Lyrics
• Includes 4.5 x 5.5" Two-Sided Stoner Cop Screen Print
• Includes Ltd. Sticker
• Black Vinyl
• Random Colored Vinyl (Sold Out 8/25/21)
▬
WUB 026
Ltd. Test Pressing Release Date: 11.20.20
Official Release Date: 12.31.20